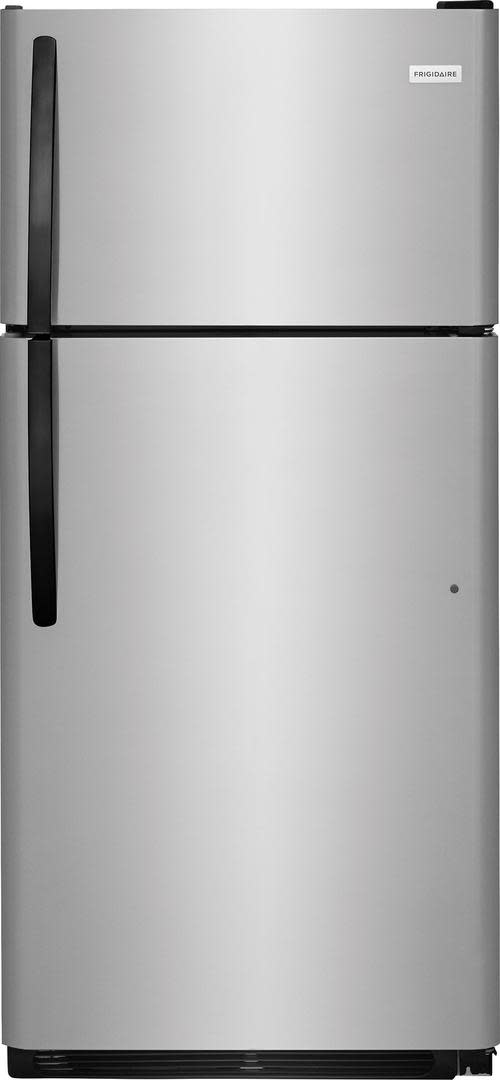 Highlighted Features
Gallon door shelf
Incandescent lighting
Crisper drawers
ADA Compliant
1-year warranty
Frigidaire's refrigerator is definitely quite big on storage. The generous spacing that it provides keeps a number of food items and beverages cool and fresh for a longer time period.
Construction:
Frigidaire is a top mount refrigerator with a freestanding style. It has a total capacity of 18.1 cubic feet, of which the freezer has 4 cubic feet and the fridge has 14.1 cubic feet, making it capacious enough to store whatever you throw at it. Moreover, it includes a dairy bin, 2 crisper drawers, 3 shelves including a gallon door shelf, 2 racks, and interior lighting. In the freezer, there are 2 shelves on the door and it has only one rack. Plus, the doors of the refrigerator are reversible so you change the direction of the swing of the door whichever way you like, either left or right.
Function:
This refrigerator will look great wherever you place it in your kitchen. Besides, the adjustable, reversible doors provide more ease as you can place the appliance wherever you want without being hindered by the direction of the swing of the doors. Whenever you open this refrigerator, incandescent interior lighting illuminates the interior as it sheds light on every corner of your refrigerator. Moreover, you can adjust the temperature inside the refrigerator by its electronic temperature control system. 
For storing food items in the refrigerator, you have shelvings on the door for keeping drinks and beverages. Plus a gallon door shelf lets you keep a gallon of milk without having to give up interior shelf space. The clear dairy bin lets you keep the dairy items like butter and stuff in an organized way. Moreover, the crisper drawers that are 2 in the number let you keep the fruits and vegetables separately in a humidity-controlled atmosphere so that your food items won't go bad. The 2 racks that are above it give more space for storing other food items. The freezer has 1 rack and 2 door shelves that provide capacious space to place frozen food items or ice cream. 
This refrigerator is designed in such a way that everything is within an arm's reach, making it ADA Compliant so that handicapped people can also use this refrigerator without any difficulty. 
Cleaning & maintenance:
The cleaning of the refrigerator is compulsory for maintaining its performance. So in order to keep the racks clean, clean them up after some time, or in case if you spill something you will need to wipe it with a damp cloth and then dry it well so there is no safety hazard. For cleaning up the exterior, just use a dry cloth to wipe off the dust that attaches itself to the refrigerator. Moreover, it has an automatic defrosting system that makes the cleaning a breeze.
Pros
Humidity-controlled crisper drawers
Automatic defrost system
Electronic temperature control
Quite a number of shelves
Full-width wire freezer shelf
Easy to use and clean
Check Price