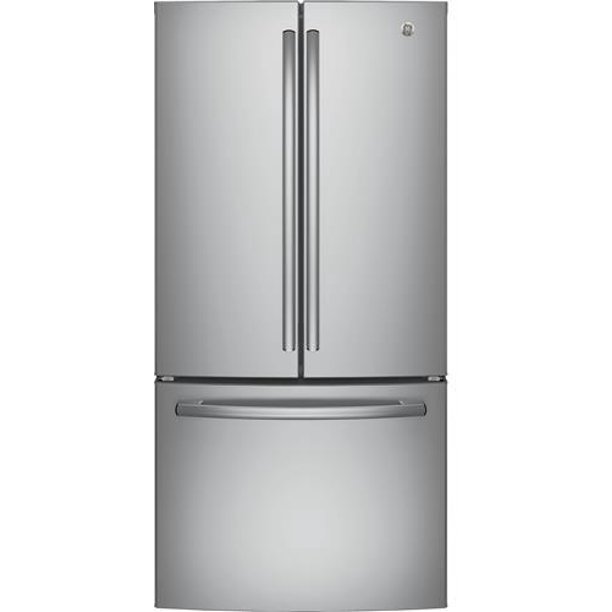 Highlighted Features
18.6 cu.ft. capacity
French door
Counter-depth
Water dispenser
Energy Star-certified
GE – GWE19JSLSS has an almost 19 cubic feet capacity refrigerator is a freestanding, french door, counter-depth model that can sit flush with your kitchen cabinets.
Construction:
This refrigerator is available in stainless steel, black, white, and a slate finish, with the black being a bit more expensive than the others. It has a bottom-freezer with a pull-out drawer style and has plenty of space on the inside. Plus, there are multi-level freezing baskets and a built-in ice maker that uses filtered water to make ice. Besides this, the fridge itself has a water dispenser, two humidity-controlled crispers, and a full-width deli drawer with adjustable temperature controls. Also, there's plenty of adjustable shelf space and gallon door storage as well.
Function:
This refrigerator features an internal water dispenser that dispenses cool, filtered water with the help of the XWF replacement filter that removes trace pharmaceuticals. However, there is no ice dispenser in this refrigerator. Plus, the humidity-controlled crisper drawers will provide you plenty of space to store your fruits and veggies and keep them from spoiling.
Moreover, there is a full-width deli drawer that allows you to store sheet cakes and similar food items and is provided with its own adjustable temperature controls to keep whatever type of food you have in there at its desired temperature. The gallon door storage means you can comfortably store milk jugs without having to cut down on your internal shelf storage. Also, there are tiny, narrow shelves underneath the gallon storage bins that are great for storing margarine tubs and baby food.
Cleaning & Maintenance:
The shelves are provided with raised edges, making them spill-safe. This means that they can contain minor spills and prevent them from dripping all over the insides of your refrigerator. They will only contain minor spills though, so take care.
When you need to clean the outer surface of your appliance, take care to not use abrasive pads and cleaners. Use gentle soaps and soft sponges so you don't end up damaging the surface. Also, clean your refrigerator habitually so no spoiled food accumulates inside and goes on to cause bad odors.
Pros
Capacious interior
Multi-level freezing baskets
Gallon door storage for milk jugs
Spill-safe shelves prevent messes
Adjustable shelves
Internal water dispenser for cold water
Check Price